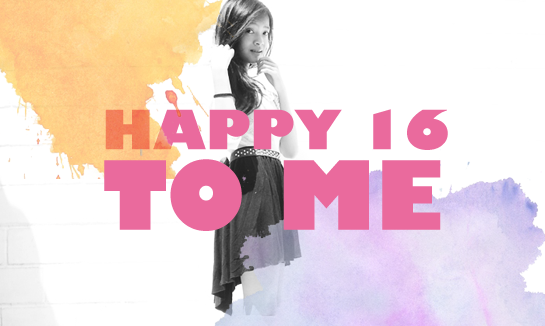 I, Katy perry #eh, declare myself that I am no longer 15 starting from this moment. From now on, I am a 16year old kid who still loves watching tom&jerry and scoobydoo. I don't think that the word "kid" is proper anymore. The word itself spells six-teen. TEEN. But the thing is, i can't let it go. Or maybe it just wants to stay... As long as it leads into something good. I'll make it stay :)
So, 16years is a loooong time. It has nearly 8409600 minutes, 140160 hours , 5840 days , 768 weeks, 192 months , but only 1 life. And I passed it all in a snap! Well not exactly, I mean there were lots and lots and lots and lots and LOTS of problems,bumpy roads,and unpleasant times but I passed it all :) it feels...GOOD! But not to worry, if compared to the happy moments it's like around 4 : 10. The good,happy,fun,undescribable moments are the 10.
Then what are my hopes for this year? Hummm, I won't make this long. I just want to see smiles and more smiles on my face and all the other people I love. I guess that's simple enough... Oh ya, I also want more and more of tribal-izing native american goods, a bunch of flowers all over my house, lots and lots of yummy sweets, more crafting appliances, pretty nail arts, colorful toy cameras, my bedroom's roof walls to be painted like the galaxy with glow in the darks stars, wooden floor, a pink mini cooper and an electronic dog doll that can bark... I'm going to write this down on a pretty piece of paper and give it to my mom, or perhaps to santa clause.
I actually don't know how to react right now. Either I have to be happy or sad knowing the fact that I'm growing old and in matter of years I'll have wrinkles...mind that.But birthdays only last a day... When the clock strikes 12 on october 2nd, I'll have to wait another 525600 minutes , 8760 hours, 365 days, 48 weeks and 12months all over again. but I don't know if I'm ready yet, I never know what will happen tomorrow or 10more minutes after this. People say that the older u get the stronger u'll be but the harder it'll be. But I'll stick with this 1 quote "life's a climb, but the view's great". Probably one of the most motivating song according to me is "The Climb - Miley Cyrus". Just listen to the lyrics and enjoy the song. So I'll be happy for today,tomorrow,the day after that,and beyond. This is my day and it only happens once a year so I'm going to enjoy it :D no one can take this away from me! No one! Beware, I might be dangerous today to those who tries to steal it. This is not the beginning anymore, I'm just going to continue all of the things I've failed and achieved at and make it into something better,better,and finally the best. Keep ur dignity up high but ur feet down low. Sooo happy heppy hippy hoppy huppy 16 to me! Yeaaay :D
Lastly, it ain't about how fast u get there , it ain't about what's waiting on the other side, life's the climb :)
HUGS AND SMOOCHES!
ALMOST FORGOT! I'll be having.... A GIVEAWAY next week after I finish my midterm exams!! Wohooo! Do wait for u who are addicted to native american goods such as dreamcatchers and fringes :o